THE LONDON MOTORCYCLE MUSEUM
2011-10-19
The LMM — London's only motorcycle museum — is the capital's friendly focus for Britain's biking history and heritage.

Currently, over 150 bikes are displayed, including founder Bill Crosby's own collection of Triumphs. 

Among the ever-changing exhibits are a 1930s Coventry Eagle 1000cc Flying 8, a 1911 Rudge TT, a 1907 Brown Precision, an ohc BSA Rocket 3, the Triumph P1 prototype Trident owned by the Trident & Rocket 3 Owners Club, an immaculate 1959 Norton Dommie 99, an equally perfect Velocette Venom of the same year, 1975 Triumph Tiger 100 Grand Prix, 1966 BSA Lightning works production racer and several other rarities and prototypes from the era when roads were less congested.

The collection includes a 1902 Ormonde (a past participant in the Pioneer Run) and a 1903 Clyde (with unique SIMS magneto); a clutch of unique prototypes and 'media stars' which cannot be seen anywhere else; a barrel load of other British machines, including racers and road bikes from ABC to Zenith; the Crosby collection of Triumphs including the last Triumph T140 out of the Meriden gates in 1983 and a 1991 Norton rotary in Paramedic livery.

The LMM isn't just a great static display. Every year the bikes of the museum appear in shows and exhibitions across the country and abroad.

The museum has attended TR30C's Beezumph rally, Beaulieu Motorcycle World, Hampshire Police and Cheshire Police open days, our Queen's Golden Jubilee Parade, Paris's Bike Show, 'The Art of Motorcycle' in Rio de Janeiro plus countless more events, gatherings and meets.

There are also bikes that have starred in Eastenders, Dad's Army and George and Mildred.

The machines are regularly taken to community events, county shows and carnivals as well as hosting our own special events and ride ins, on the museum premises.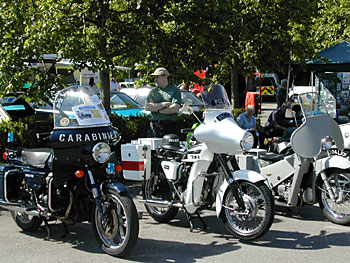 Author:
Vainka

Tourstart.org
lmm, london, britain, bill, crosby's, triumphs, coventry, eagle, flying, rudge, tt, brown, precision, bsa, rocket, triumph, p1, trident