Sturgis Motorcycle Museum and Hall of Fame, Inc.
2010-08-19
Sturgis Motorcycle Museum and Hall of Fame is aimed to preserve the history of motorcycling as a lifestyle and honour those who contributed to this history. It has started its work from the time when motorcycling only was on the way to gain its power and is working up to day collecting and presenting the movement of time.

The museum represents the valuable extraordinary motorcycles focusing mainly on classic ones. Each piece of exhibition has educational and historical value.
The museum is constantly changing its exhibits proposing to its attendances something new and non-recurring, so that it is worth coming here even for those who have visited the museum several times. It works through the whole year, revitalizing during summer, especially when preparing for the Sturgis motorcycle rally.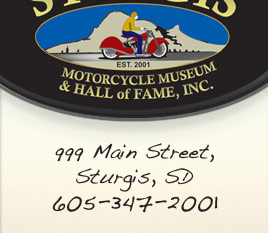 Author:
Vadim

Tourstart.org
exhibition, museum, classic, sport, history, sturgis, motorcycle, hall, fame, rally, august