Michigan Lighthouse Tour
2018-03-11
Open to the public on a regularly schedule basis.
Point Iroquois Light Station is located along the scenic Lake Superior shore in the Upper Peninsula of Michigan. It is only 20 miles west of Sault Ste. Marie and 51 miles east of Tahquamenon Falls. From birch bark canoes to giant ore freighters, this unique point of land has influenced travel for centuries.
Our museum reveals the stories of the lightkeepers and their families through family album photographs, antiques, and artifacts. Learn about the fourth order Fresnel lens that could project a light for sixteen miles. Climb the 72 steps to the top of the tower for a picturesque view of Lake Superior. Observe the freighters traveling through Whitefish Bay as you walk along a cobblestone beach in search of agates. Browse through our book shop, which offers a wide selection of historical readings about the Great Lakes.
Step back in time and visit our west wing exhibit. The assistant keeper's apartment is restored to the way it looked in the early 1950's. Imagine the smell of fresh cinnamon rolls or the sounds of "Suspense Theater" on the radio as you walk through.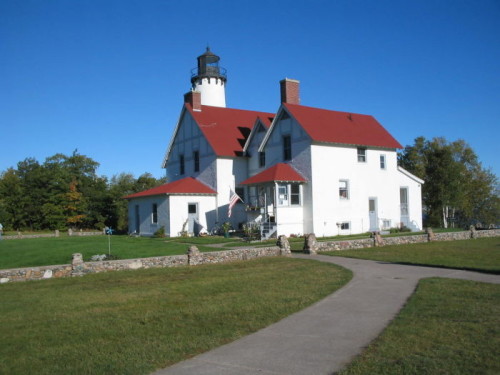 Author:
Michigan Light

Tourstart.org
iroquois, light, station, lake, superior, upper, peninsula, michigan, sault, ste, tahquamenon, falls, fresnel, whitefish, bay, great, lakes, suspense