Lakeland Motor Museum
2011-12-20
The Lakeland Motor Museum is a museum now located at Backbarrow, Cumbria, England which houses a collection of classic cars, motorcycles, bicycles, pedal cars and motoring related items and memorabilia and an exhibition dedicated to the land and water speed record activities of Sir Malcolm Campbell and his son Donald.
History
The Museum was established in Grange-over-Sands in 1978 as an extra attraction for the Holker Hallstately home. The museum was created by Donald Sidebottom to contain the collection of cars and related memorabilia that he had been collecting since the 1960s. After more than thirty years at Holker Hall, the museum relocated to the site of the former Reckitt's Blue Dye Works carton packaging sheds at Backbarrow in 2010.
The collection
The museum features a unique collection of over 30,000 motoring related exhibits including a 1920s garage re-creation. Amongst the cars in the museum's collection are a 1913 Star 15.9, a 1936Bentley 4¼-litre which was owned by Donald Campbell, a World War II Willys Jeep and a 1955Jaguar XK140. The museum also houses an exhibition dedicated to Sir Malcolm Campbell and his sonDonald and their land and water speed record activities.
MOTORCYCLES
The first petrol powered motorcycle was essentially a motorized bicycle built in 1885 by German inventors Gottlieb Daimler and Wilhelm Maybach, in Bad Cannstatt, now a district of Stuttgart.
The first commercially available motorcycle was brought to the market in 1894 by Hildebrand and Wolfmuller, in Munich.
By the mid 1930's there were over 80 motorcycle makes available in Britain, including famous marques such as Vincent, Norton, Triumph and BSA, with many mergers and company failures, yet a retention of market dominance until the late 1960's and early 1970's when the Japanese manufacturers led by Honda introduced more modern, stylish, very reliable and less expensive machines. This led to the rapid decline of the British motorcycle industry.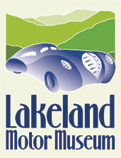 Author:
Vainka

Tourstart.org
biking history, exhibits, motor museum, motor exhibits, the, lakeland, motor, museum, backbarrow, cumbria, england, sir, malcolm, campbell, donald, history, grange-over-sands, holker