Art In Motion Vintage Motorcycle Museum
2011-04-21
Art In Motion Vintage Motorcycle Museum:

This museum is among the best small museums of motorcycles in the Southeast. Included along with the cycles are jukeboxes, slot machines, and early advertising.

About the Collection:
Among the forty plus cycles is the well-known collection of Art Sigal. Sigal was a pioneer in the collecting of vintage bikes and was the second president of the Old Bike Club. Even though Jay Leno was in attendance at the auction of Sigal's estate, it was a Pennsylvania investor who ultimately purchased most every bike in the sale. They were subsequently purchased by a Georgia collector. Now they will be on view for all to enjoy when you visit the Art in Motion Vintage Motorcycle Museum in Warm Springs, GA.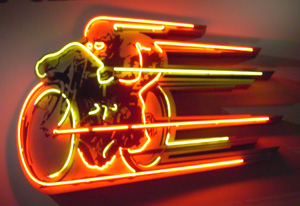 Author:
Vadim

Tourstart.org
mc collection, military motorcycles, motorcycle, museum