Arkansas Eureka Springs Art Tour
2016-07-20
Perched on the northern end of AR 23, Eureka Springs is one of the premier motorcycling destinations in mid-America. In fact, the main Eureka Springs motorcycle thoroughfare, AR 23 is consistently ranked among the Top Ten Best Driving Roads in the country by national car and driving publications.
Start by heading south on AR 23 where you'll encounter broad sweepers and gentle curves. It's fun and and not technically difficult. Riders will enjoy a beautiful run through mostly wooded terrain dotted with pastureland. The scenery is uncluttered, wide open and lightly populated.
The AR 12 and AR 45 portion leading to Fayetteville is scenic plateau farmland, with frequent stands of thick woods. Fayetteville, home of the University of Arkansas, has wonderful restaurants and watering holes as well as the annual Bikes, Blues and BBQ. The Bikes, Blues and BBQ motorcycle rally has become one of the largest charity rallies in the world and is always a great time. Springdale, Bentonville and other cities throughout the Northwest Arkansas area have a lot to offer as well.
Courtesy of Arkansas Motorcycling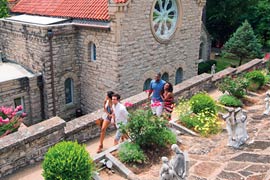 Author:
TMac77

Tourstart.org
motorcycles, motorcycle tour, scenic ride, arkansas, eureka springs, perched, ar, eureka, springs, america, top, ten, best, driving, roads, start